The most productive flies your fly box can have are a selection of Hare's Ear Nymphs.  Either the bead head or standard,  they simply catch more fish, in more waters then all other nymph patterns combined.  The reason is the buggy life likeness of the fly's rabbit hair tying material.
In small sizes the Hare's Ear Nymphs represent all forms of mayflies, and simply just edible chow for any hungry fish.  In larger sizes, any aquatic life form. They are a non-specific form of nymph, not matching any specific nymph but that in its own right justifies their number one edibility for any opportunistic predator.
I have often caught minnows that attacked and been hooked on this nymph where the nymph was half their size. I regularly hook 20 inch plus fish as well.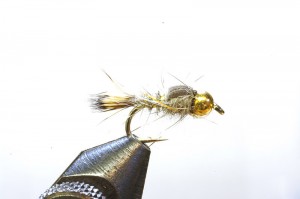 Hare's Ear Nymphs can be best fished any number of ways.  As droppers under dry flies, dead drifted on floating and sinking fly lines, and under indicators. Here is a sure fire naughty trick when you really cant match an evening dry fly hatch.  Use floatant on a hare's ear attached to a long leader and floating fly line; then and hold on. This effective floating the nymph in the surface film can make a lousy day excel. Always try Hare's Ear Nymphs, you'll be pleased.
See the kane klassics selection of quality tied hare ears on the links below.
BH Hare's Ear Dark: https://kaneklassics.com/product/bead-head-hares-ear-dark/
DH Hare's Ear Light: https://kaneklassics.com/product/bead-head-hares-ear-light/
Hare's Ear Dark: https://kaneklassics.com/product/hares-ear/
Hare's Ear Light: https://kaneklassics.com/product/hares-ear-light/