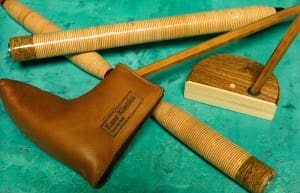 Custom Golf Putters by Kane Klassics
Incorporating 25 years of fly rod craftsmanship, Kane Klassics sought to expand into a field that seems very different from fishing but on second glance has quite similar objectives:
          Custom Putters                          775-677-0590
Accuracy in putting as in fly casting
Elegant attention to detail in fit and finish
Performance based design
Conforming to USGA rules
Rated the most accurate and aesthetic looking putter by Golf Test USA
Awarded the coveted Golf  Test USA: "Seal of Excellence"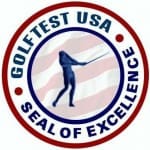 Kane Klassics Custom Golf Putters have adapted many of the useful techniques developed for the construction of their world-class fly rods for the creation of the most accurate , most ascetic pleasing and performance based putters all using top of the line materials and and design confirming to USGA Rules. High speed films have confirmed the testing of superb accuracy by the hands on testing done at Golf Test USA.  The films showed insignificant ball hope of the bamboo putter strike faces.
Construction and Materials of the Custom Golf Putters
Just like our fly rods, we use bamboo cane that has been seasoned for 40 years. This is hand split, planed, and flame tempered making for an excellent amber hued shaft. Our putter grips are comprised of soft cork that is wrapped rattan, thin strips of bamboo, and seam-sealed with silk. A similar polymer solution to that of our rods is finally used for the shaft and grip. it is your choice of which putter head you would like assembled to your bamboo, graphite, or steel shaft. Under every Custom Putters unique bamboo grip; length, date of construction and your name are inscribed. Standard putters are custom sized from 25 up to 39" per your request.
Custom Golf Putter Shaft and putter head $900.00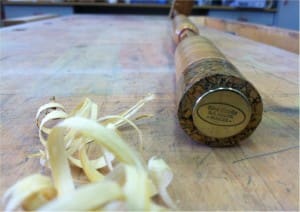 Steel shaft with leather grip $345.00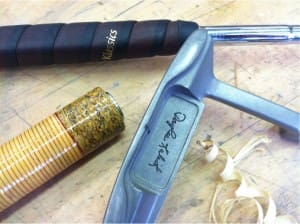 Graphite shaft with leather grip $295.00