12 pound raft with oars. The ultimate float tube , by Alpaka rafts weights only 12 lbs with its own built in pack pack.  We recently were in a Mountain Lake in the Apache Indian area of eastern Arizona and had a great time with ease of packing in a row-able float boat.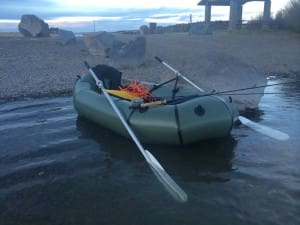 The craft is easy to inflate and quiet stable.  Rowing is easy and quick.  In a pinch you could use it to carry a smaller second passenger but things would be tight.  I normally carry several rods as the boat can troll rods nicely.
On the pricy side, its about $133.00 a pound, but worth every penny or ounce when your hiking in.