Its not about the journey, but the destination.
To Order Please Phone:
775-677-0590
Electric Bike upgrade electrification / restoration of your older favorite bicycle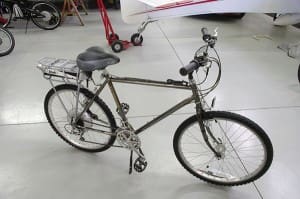 Imagine your favorite older Mountain Bike brought back to as new and better condition.  Kane klassics has restored thousands of older bamboo fly rods.  This Electric Bike upgrade service has been extended to your older bikes. New tires, brakes, seats and the ultimate power assist electric bike upgrades are all available fairly priced and bid as simple time and material.  Takes only a few weeks to transport your old favorite into your new pride and joy.
We have integrated this super lightweight BionX system with our own custom mounting structure  to create an extra durable off-road transportation opportunity.
This system makes your bike the "Prius of Bikes" !!
With an extra-long range of up to 105 km (65 mi.) on a single charge and enough power and torque to handle anything the road or the trail has in store the BionX Sport Series is the top-of-the-line in e-bike systems. Allowing you to do more on your bicycle than you ever thought possible. Conquer long journeys, tackle hills, and haul loads.
BionX S 350 DX
The top-of-the-line BionX downtube system offers up to 20 % more range, letting you travel more than 60 miles on a single battery charge. Includes the BionX cassette body.
Range*: 105km (65 mi.)
Battery: Li-Ion / 48V / 8.8 Ah / 423 Wh
Torque (Nom./Max.): 9.0/40.0 Nm (6.6/29.5 lb.-ft.)
Weight (System): 7.3kg (16.1 lb.)
Assist Levels: 35, 75, 150, 300%
Pricing:
Any electric kit, Bionx or E-Bike kits , plus restoration bid per project.
Pricing example as in the picture above of the Makers 1985 Schwinn :
Electric system: $2200.00
Tires, Brakes, adjustments and upgrades: $250.00
To Order Please Phone: 800-337-5200,
or Cell: 510-487-8545
 ALL ELECTRIC BIKES IN OUR POWER RANGE ARE STREET LEGAL IN ALL STATES BY FEDERAL LAW – NO DMV – NO AUTO INSURANCE – NO HELMET (HELMET ALWAYS ADVISED ON ANY BIKE)